UNITED STATES SHIP
Thresher
(SSN 593)
In Memoriam
April 10, 1963

---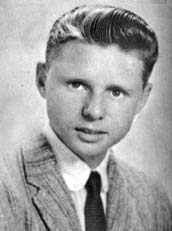 Burnett Michael Shotwell
Electronics Technician Seaman
UNITED STATES NAVY
Burnett Michael Shotwell was born on August 19, 1942, in Morristown, N.J., the son of Mr. and Mrs. Burnett E. Shotwell of Red Bank, N.J. He attended the River Plaza Grammar School and the Middletown Township High School in Middletown Township, N.J. While in high school, Burnett was a member of the Field and Stream Club and the Math Club. He was particularly fond of outdoor sports, especially water sports. Burnett also developed an early interest in electronics and had built his own radio transmitter while in high school, as well as other type radio equipment.
Upon graduating from high school in June 1960, Burnett enlisted in the Navy and received his basic training at the U.S. Naval Training Center, Great Lakes, Ill. Burnett was then selected to attend the Navy's Electronics Technician School. He was graduated on April 14, 1961, and volunteered for submarine duty. Completing submarine basic training at the U.S. Naval Submarine School, New London, Conn., Burnett underwent further training at the Guided Missile School, Dam Neck, Va. Following graduation, he was then assigned to the nuclear-powered submarine U.S.S. Thresher (SSN 593).
Burnett is survived by his parents, Mr. and Mrs. Burnett E. Shotwell of Red Bank, N.J.; a brother, Leonard Shotwell, and his godfather, Mr. Irwin Thompson, a longtime resident of the Shotwell household.

---
Previous page | Home | In Memoriam | Next page