UNITED STATES SHIP
Thresher
(SSN 593)
In Memoriam
April 10, 1963

---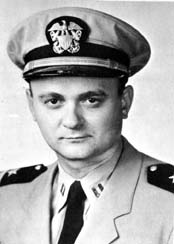 John Smarz, Jr.
Lieutenant
UNITED STATES NAVY
John Smarz was born on July 11, 1929, in Shelton, Connecticut, the son of Mr. And Mrs. John Smarz, Sr. He attended public school in Shelton, and during his high school years, he participated in both baseball and football in which he received letters for his managerial talents.
He was graduated from high school in June 1947, and in January of the following year, he enlisted into the naval service. He completed his basic training, and attended the Navy's electronics technicians school in 1949. John then volunteered for submarine duty and upon being accepted, he was enrolled in the Submarine School at the U.S. Naval Submarine Base, New London, Connecticut. He successfully completed the course in 1951.
John rose through the ranks, and on August 14, 1958, he was commissioned an ensign. During the next 2 years he served in the submarine U.S.S. Sea Robin (SS 407), in which he became qualified as a submariner and was awarded his gold dolphins. He later attended the Basic Nuclear Power School at the submarine base in New London, where he became qualified as a nuclear power reactor operator.
In August 1960, he was assigned to the precommissioning detail of the nuclear-powered submarine Thresher (SSN 593).
During his naval service, John had earned the Navy's Good Conduct Medal with three starts for three separate awards; the National Defense Service Medal, the Korean Service Medal, and the United Nations Service Medal.
In addition to his parents, John is survived by his widow, the former Joyce Wesley Mills of Gloversville, New York; and three sons, John, III, Richard Arthur, and James Michael.

---
Previous page | Home | In Memoriam | Next page