UNITED STATES SHIP
Thresher
(SSN 593)
In Memoriam
April 10, 1963

---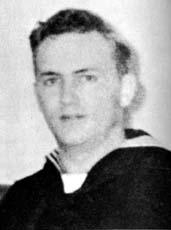 William Harry Smith, Jr.
Boilerman First Class
UNITED STATES NAVY
William Harry Smith, Junior was born on December 6, 1934, in Miami, Fla., the son of Mr. and Mrs. William H. Smith. He attended local schools there prior to entering the Navy on January 10, 1952, at Jacksonville, Fla.
His father is a Navy veteran of 10 years of service, an uncle is a retired navy man, and a cousin presently serves in the Navy, himself a veteran of over 20 years.
After completing his basic training at the U.S. Naval Training Center, San Diego, Calif., William was assigned to his first sea duty in the patrol escort vessel U.S.S. Everett (PF 8), and later, the radar picket destroyer U.S.S. Higbee (DDR 806). It was while serving in Higbee, that William saw service in the Korean conflict, for which he was awarded the Korean Service Medal with one battle star, Korean Presidential Unit Citation with badge, and the United Nations Service Medal. During his naval service he also earned the Good Conduct Medal, the China Service Medal and the National Defense Service Medal.
William entered the Navy's Boilerman School, and was graduated on November 26, 1956. In 1960, he volunteered for submarine duty, and upon being accepted, entered training at the Submarine School at New London, Conn. He was later selected for nuclear power training and attended the school at New London. This was followed by additional advanced training at the Nuclear Power Training Unit, Idaho Falls, Idaho. On May 15, 1962, William was assigned to his first submarine, the U.S.S. Thresher (SSN 593).
In addition to his parents, William is survived by his widow, Agnes Cooper Smith; a son, William III; a brother, Charles David Smith; a sister, Mrs. Mable Lewis of Atlanta, Georgia; and his grandmother, Mrs., M. K. Smith of St. Augustine, Fla.

---
Previous page | Home | In Memoriam | Next page