UNITED STATES SHIP
Thresher
(SSN 593)
In Memoriam
April 10, 1963

---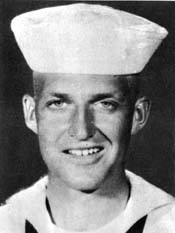 James Leonard Snider
Machinist's Mate First Class
UNITED STATES NAVY
James Leonard Snider was born on July 22, 1939, in Clayton, N. Mex., son of Mr. and Mrs. Clinton Snider. He spent his early boyhood on his parent's ranch where he became proficient in the operation of farm machinery. He worked as a heavy-duty equipment operator for 2 years prior to entering the naval service.
He attended Pajarito Elementary School in Albuquerque, and Belen High School in Belen. His hobbies were hunting and fishing in the mountains of New Mexico.
Enlisting in the Navy on February 10, 1958, he received his basic training at the U.S. Naval Training Center, Great Lakes, Ill., and upon completion, was selected to attend the Navy's Machinist's Mate School.
Following his graduation from that school, he was assigned to the destroyer tender U.S.S. Bryce Canyon (AD 36), until he was selected for advance training in nuclear power. James was one of the first to enter nuclear power training specifically for duty in surface ships. However, he volunteered for submarine duty, and upon being accepted, he was ordered to the Submarine School located at the U.S. Naval Submarine Base, New London, Conn. Successfully completing the course of instruction, he was assigned to the nuclear-powered submarine U.S.S. Thresher (SSN 593) on March 19, 1963.
In addition to his parents, James is survived by his widow, Mrs. Phyllis A. Snider; two daughters, Michelle Marie and Sherry Ann; five brothers, Bud, Andrew, Ernest, John and Jerry; three sisters Mrs. Allen, Mrs. James Templeton, and Miss Christine Snider.

---
Previous page | Home | In Memoriam | Next page