UNITED STATES SHIP
Thresher
(SSN 593)
In Memoriam
April 10, 1963

---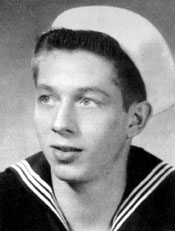 Joseph Alfred Walski
Radioman First Class
UNITED STATES NAVY
Joseph Alfred Walski was born on June 6, 1939, in Holyoke, Mass., the son of Mr. and Mrs. Joseph P. Walski. He was the second of three children.
An excellent student throughout his school years, he was graduated from high school in 1957, where he was a member of the athletic association and the Goodfellow's Club. Joseph was an avid swimmer and water skier, and owned his own speedboat while still in high school.
Joseph enlisted in the Navy on July 4, 1957, at Springfield, Mass., and received his basic training at the U.S. Naval Training Center, Bainbridge, Md. He then entered the Radioman School at Bainbridge, and successfully completed the course of instruction on April 25, 1958. Joseph then volunteered for submarine duty, and attended the Submarine School at New London, Conn. After graduating the basic enlisted course at the school he was assigned to the submairne U.S.S. Trigger (SS 564), where he became qualified, and later to the submarine U.S.S. Corporal (SS 346). On February 27, 1961, Joseph was assigned to the nuclear-powered submarine Thresher.
Joseph leaves his wife, Mrs. Carol D. Walski, and a son, Michael A.; his father, Mr. Joseph P. Walski of East Hampton, Mass.; and his mother, Mrs. Helen E. Krawczynski of West Springfield, Mass. He also is survived by two sisters, Alice and Nancy Walski; a half brother, Jefferey Krawczynski and a half sister, Susan Krawczynski.

---
Previous page | Home | In Memoriam | Next page