UNITED STATES SHIP
Thresher
(SSN 593)
In Memoriam
April 10, 1963

---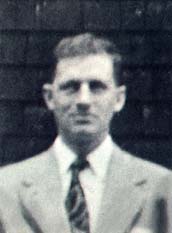 Fred Philip Abrams
Civilian Inspector
PORTSMOUTH NAVAL SHIPYARD
Fred Philip Abrams was born in Kittery, Maine. He attended public school in Maine, and was graduated from Traip Academy in 1938.
During World War II, Fred served in the U. S. Army and was a member of the 360th Engineers General Service Regiment, serving in the European theater. He was honorably discharged on December 29, 1945, after completing 38 months of service. Fred earned the Army Unit Citation, Good Conduct Medal and Marksmanship Medal during his Army service.
He was employed by the U. S. Naval Shipyard at Portsmouth, N. H., as an inspector, ship's mechanical system, quality assurance branch of the Production Department. It was in this capacity that Fred was embarked in the Thresher when she was lost at sea.
He is survived by his wife, the former Shirley Astbury and two children; a daughter Carol, and a son , James. In addition, he leaves his father, Mr. Fred T. Abrams; a brother, Charles, both of Kittery, Maine; and a sister, Mrs. Ada Torrey of Newburyport, Mass.

---
Previous Page | Home | In Memoriam | Next page