UNITED STATES SHIP
Thresher
(SSN 593)
In Memoriam
April 10, 1963

---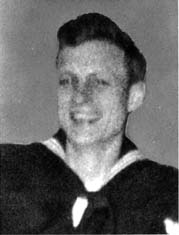 Robert Edwin Steinel
Sonarman, First Class
UNITED STATES NAVY
Robert Edwin Steinel was born on February 12, 1930, in Cleveland, Ohio, the son of Mr. and Mrs. Andrew M. Steinel.
He attended local schools there, and after graduating high school, enlisted in the Navy. In October 1947, Robert received his basic training at the U.S. Naval Training Center, Great Lakes, Ill., and upon completion, underwent further trainin; in the field of sonar. He attended the Fleet Sonar School, Key West, Fla., and while there, volunteered for submarine duty. He received his training at the Submarine School, New London, Conn., and upon graduating, was assigned to his first submarine. He subsequently served in the submarines U.S. S. Corsiar (SS 435), Trutta (SS 421), Bank (SS 385), Lionfish (SS 298), Croaker (SS 246), Guavina (SS 362), Barbel (SS 580), and the nuclear-powered submarines Permit (SSN 594) and Thresher (SSN 593).
Robert was active in Masonic affairs and was a Third Degree Mason in the Newburyport (Massachusetts) Assembly, Order of St. Johns. He built his own home in Salisbury, Mass. After his death, the town of Salisbury paid tribute to Robert by dedicating a park in his honor. The park now bears the name, "Robert E. Steinel Memorial Park."
He is survived by his widow, Mrs. Doris E. Steinel; three daughters, Constance, Mary, and Barbara; a son, Robert E., Jr.; and an infant son born in November 1963. He also leaves his parents.

---
Previous page | Home | In Memoriam | Next page