UNITED STATES SHIP
Thresher
(SSN 593)
In Memoriam
April 10, 1963

---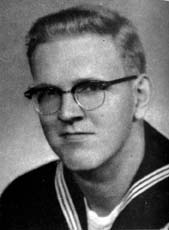 Ronald Hal Solomon
Chief Electrician's Mate
UNITED STATES NAVY
Ronald Hal Solomon was born on July 30, 1936, in coffeeville, Kans. He was an excellent athelete while in high school, winning awards in track, basketball, baseball, and football.
Ronald enlisted in the Navy on June 10, 1654 at Oklahoma City, Okla., and received his basic training at the recruit training center in San Diego, Calif. he attended the Navy's Electrician's Mate School in San Diego, and upon graduating, was assigned to his first sea duty aboard the stores ship U.S.S. Polaris (AF 11). He also served in the aircraft carriers U.S.S. Franklin D. Roosevelt (CVA 42), and Oriskany (CVA 34).
Selected for training in the Navy's nuclear power program, he was ordered to the nuclear power school at Vallego, Calif., followed by additional advance training at Idaho Falls, Idaho.
Ronald then volunteered for submarine duty and attended the U.S. Naval Submarine School, New London, Conn. Upon completion of the course of instruction he was ordered to his first submarine, the U.S.S. Thresher (SSN 593), on February 21, 1962.
Ronald is survived by his widow, Fay L. Solomon; three sons, Richard V., Robert J., and Ronald H., Jr., residing in Napa, Calif. He also leaves his parents, Mr. and Mrs. Hal B. Solomon of Springfield, Mo.; a sister, Mrs. Arnold Moldenhauer; and a brother, Richard Wayne Solomon; a navy man serving aboard the submarine tender U.S.S. Proteus (AS 19).

---
Previous page | Home | In Memoriam | Next page