UNITED STATES SHIP
Thresher
(SSN 593)
In Memoriam
April 10, 1963

---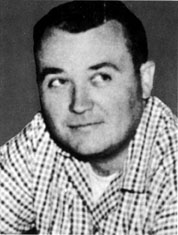 Charles Louis Wiggins
Fire Control Technician First Class
UNITED STATES NAVY
Charles Louis Wiggins was born on December 7, 1933, in El Paso, Tex. He was an "A" student at Central High School where he was graduated at age 16. While in school, Charles was on the swimming team and earned many awards in swimming competition.
Having moved with his family to Spokane, Wash., he enlisted in the Navy there in June 1952. After completing recruit training at the U.S. Naval Training Center, San Diego, Calif., he was assigned to the U.S. Naval Receiving Station, Washington, D.C. Continuing to demonstrate the qualities of a good student, he was graduated from the Navy's Fire Control Technician School, and the Mark 25 Class "C" Schol in 1954.
After tours of duty at sea in the U.S.S. Achernar (AKA 53), the U.S.S. Fort Snelling (LSD 30), and the U.S.S. Courtney (DE 1021), Charles attended and was graduated from the Class "B" Fire Control Technician School at the Great Lakes in 1960. He then volunteered for submairne duty and was accepted for training at the Submarine School located at the U.S. Naval Submarine Base, New London, Conn. He successfully completed the course of instruction and was graduated in 1961. In January 1962, Charles was assigned to the nuclear-powered submarine U.S. S. Thresher (SSN 593). During his naval service, Charles had earned the Navy's Good Conduct Medal (tree awards), and a letter of commendation from the commanding officer of the Thresher.
Charles is survived by his widow, Mrs. Patricia A. Wiggins of Exeter, N.H.; three children, Joy L., Dawn M., and Charles L., Jr., and his parents, Mr. and Mrs. E. B. Wiggins. He also leaves to married sisters, Mrs. R. Fechner, and Mrs. T. Ledbetter; and a brother, Mr. D. Wiggins, all of Spokane, Wash.

---
Previous page | Home | In Memoriam | Next page