UNITED STATES SHIP
Thresher
(SSN 593)
In Memoriam
April 10, 1963

---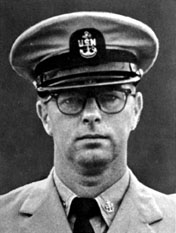 Donald Edward Wise
Chief Machinist's Mate
UNITED STATES NAVY
Donald Edward Wise was born on November 11, 1931, in Somerville, Mass., the son of Mr. and Mrs. Dexter L. Wise. He attended public schools in Massachusetts prior to entering the naval service in December 1948, at age 17.
He received his basic training at the U.S. Naval Training Center, Great Lakes, Ill., and was later assigned to the heavy cruiser U.S.S. Salem (CA 139). Between torus of duty ashore at the naval installations at Norfolk, Va.; Argentia, Newfoundland; and New London, Conn., he subsequently served in the fleet oiler, U.S.S. Salamonie (AO 26), and the ammunition ship, U.S.S. Surbachi (AE 21).
Donald then volunteered for submarine duty and was accepted for training at the Submarine School located a tthe U.S. Naval Submarine Base, New London, Conn. He was graduated on April 10, 1957. He was assigned to the U.S.S. Hardhead (SS 365), in which he became qualified as a submariner and was awarded his silver dolphins on April 24, 1958. He was selected for advance training in nuclear power and attended the schools at New London, and West Milton, N.Y. He successfully completed the course of instruction and on February 27, 1961, he was assigned to the nuclear powered submarine U.S.S. Thresher (SSN 593).
During his naval service Donald had earned the Navy's Good Conduct Medal (four awards); National Defense Service Medal, Navy Occupations Medal with European Clasp, and the Navy Commendation Medal.
He is survived by his widow, Mrs. Virginia R. Wise of Arlington, Mass.; five chilren, Donald, Jr., Patit Anne, Nancy Ellen, John Arthru, and Phillip Alan. He also leaves his parents, Mr. and Mrs. Dexter L. Wise; four brothers, Richard P., James O, William, and D. Robert Wise, now on active duty witht he U.S. Navy; and a sister, Mrs. Margaret Perry of Wilmington, Mass.

---
Previous page | Home | In Memoriam | Next page